Otokar has delivered İzmir Metropolitan Municipality's subsidiary, General Directorate of Electricity, Water, Coal Gas, Buses and Trolley Buses' (ESHOT) order of 25 Sultan City with a ceremony as part of the Municipality's extensive transformation in public transportation. Otokar carries millions of passengers with over 35 thousand busses in not just Turkey but 50 countries and thanks to its Sultan City model, İzmir will have a much faster and more comfortable transportation between its districts.
As a Koç Group company, Otokar has delivered 25 Sultan City model busses to İzmir Metropolitan Municipality's subsidiary, General Directorate of Electricity, Water, Coal Gas, Buses and Trolley Buses (ESHOT). Otokar has specially developed its Sultan City model for ESHOT to offer a combination of durability, safety and economy. Following the ceremony at İzmir Fair Center, the Sultan City started serving İzmir's citizens.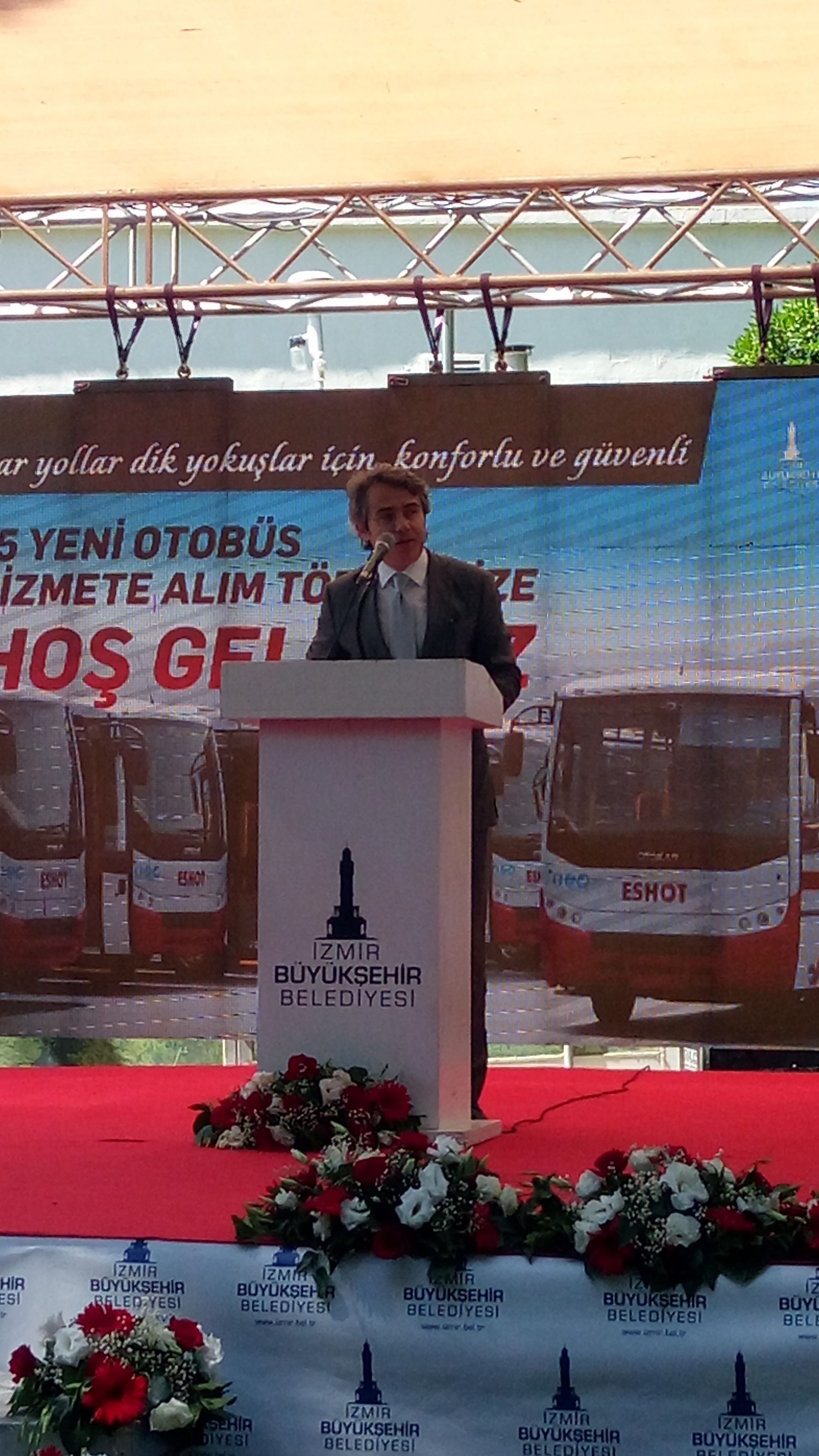 İzmir Metropolitan Municipality Mayor Aziz Kocaoğlu, ESHOT General Manager Raif Canbek, Otokar Deputy General Manager Basri Akgül, Otokar executives and many İzmir citizens have attended the delivery ceremony of the Sultan City that will breathe a fresh air into the public transportation of İzmir and its districts.
"Designed Exclusively For İzmir's Citizens"
At the ceremony, Otokar Deputy General Manager Basri Akgül has stated that they are once again proud to see Otokar selected for İzmir's public transportation. He said: "For many years, we've been in service of İzmir's people with our different types of urban busses that range from articulated busses to medium-size busses. The Sultan City model launched today has been specially developed for İzmir's citizens. Thanks to the new vehicles, the infrastructure of this beautiful city will grow ever stronger in its extensive transformation of its public transportation."
Akgül has indicated that Otokar takes its place in İzmir's modern public transportation system projects with special vehicles: "As İzmir Metropolitan Municipality produces and rapidly applies solutions that will positively impact the urban development, it will begin a new era in the transportation between the city center and its distant districts. We are once again very pleased to accompany İzmir Metropolitan Municipality for this important step in İzmir's contemporary, comfortable and handicapped-friendly public transportation. We would like to express our thanks to ESHOT and İzmir Metropolitan Municipality for their trust in our vehicles. We wish that our new busses shall bring luck to İzmir and ESHOT."
"It Will Be the First Use of Automatic Transmission and Retarder in This Segment in Turkey"
The Sultan City model has been manufactured according to ESHOT and İzmir Metropolitan Municipality's special demands and requirements and it has brought a first-time innovation in Turkey. In Turkey, this has been the first use of automatic transmission and retarder in the Sultan City's bus segment in public transportation. The driver's cabin has also been exclusively designed for ESHOT's Sultan City models. In addition to its high passenger capacity, low operating costs and strong performance, the Sultan City also allows transportation of handicapped passengers with its flat rear floor. The vehicle shines out with its modern looks, spacious interior design and superior handling. It also accelerates the passenger flow with its wide doors, while offering the freedom of travel for everyone with its easy-foldable wheelchair ramp. The Sultan City features a passenger capacity of 25+22+1, 4 IP security cameras and a recording system. With its İzmir-exclusive seat design, strong air conditioning and eco-friendly Euro 6 engine, the vehicle promises a new era in urban public transportation.