In İstanbul, the company has launched its New Stralis X-WAY that offers a perfect combination for transportation applications that require both off-road capabilities and on-road comfort as well as its New Daily Euro 6 Blue Power model that has been crowned with the "2018 Panel Van of the Year" award and that already meets the emission norms beyond 2020 with IVECO's advanced SCR technology.
In his speech at the conference, IVECO Turkey General Manager Roberto Camatta said: "I'm very happy to present you two of our vehicles at once. The Stralis X-WAY is a product that has been designed according to customer needs in both urban and regional construction and earthmoving logistics while offering a better TCO (Total Cost of Ownership) without compromise in economy. Today, we're also introducing the Daily Euro 6 family. The newest member of this family is the Daily Blue Power that already meets the emission norms beyond 2021 with IVECO's advanced SCR technology. Daily Blue Power family has been named panel van of 2018 by the international jury. This is very significant as it proves how much Iveco has progressed in terms of innovation and environmental technologies."
THE ONLY ALL-PURPOSE VEHICLE
NEW STRALIS X-WAY
The New Stralis X-WAY carries its modular approach to an extreme and offers extensions for every mission from light tippers to concrete mixers. There are three different options for the needs of each customers: The On-road set-up features contain all the on-road characteristics of the Stralis. It ensures best visibility and cabin accessibility. In addition, it has multiple axle versions as well. The high manoeuvrability of the off-road set-up is fully compatible with the off-road homologations. On+, on the other hand, offers a combination of the most attractive off-road on-road features.
Offers Advantage in Total Cost of Ownership
The New Stralis X-WAY's Super Loader version with the 8x4 chassis has been designed with especially concrete mixers in mind. Officials have indicated that thanks to its 8 thousand 845-kilogram kerb weight, the Stralis X-WAY's Super Loader version has the highest loading capacity of its segment.
Kerb Weight of 8 Thousand 845 Kilograms
According to UTAC's (United Test and Assembly Center) independent tests; equipped with the 9-liter engine that produces 400 horsepower and an 8x4 chassis, the new Stralis X-WAY's kerb weight has been measured at 8 thousand 845 kilograms. Thanks to its kerb weight of 8 thousand 845 kilograms, the model offers major advantage in segments like concrete mixers where customer's profits are directly proportional with the loading capacity. The new Stralis X-WAY combines IVECO's best fuel efficiency and safety technologies with its legendary off-road durability while offering high levels of efficiency to its users through its Total Cost of Ownership (TCO).
"Smart Assistants" That Minimize Fuel Consumption
The New Stralis X-WAY is also equipped with technologies used on the Stralis XP model and verified by TÜVSÜD for reducing fuel consumption by 11,2 percent. The best-in-class Hi-Tronix automatic transmission and its Hi-MUX electric, electronic organization also ensure fuel efficiency. In addition, the vehicle is equipped with driving assistance features like the state of the art HI-CRUISE system, eco-roll, predictive gear change and predictive cruise control. On the other hand, its "Smart Assistants" help minimize fuel consumption under every condition. With its patented Hi-SCR exhaust processing system, the new Stralis X-WAY offers the best in class with 97 percent reduction in nitrous oxide levels. While the model reduces maintenance costs without requiring active regeneration, it also extends its operating times.
"2018 PANEL VAN OF THE YEAR"
NEW DAILY BLUE POWER
Süha Yılmaz: "Diesel Will Be Replaced by Electric Vehicles"
Iveco Daily Euro 6 as well as the "2018 Panel Van of the Year" Daily Blue Power have been introduced to the sector with a press conference in İstanbul.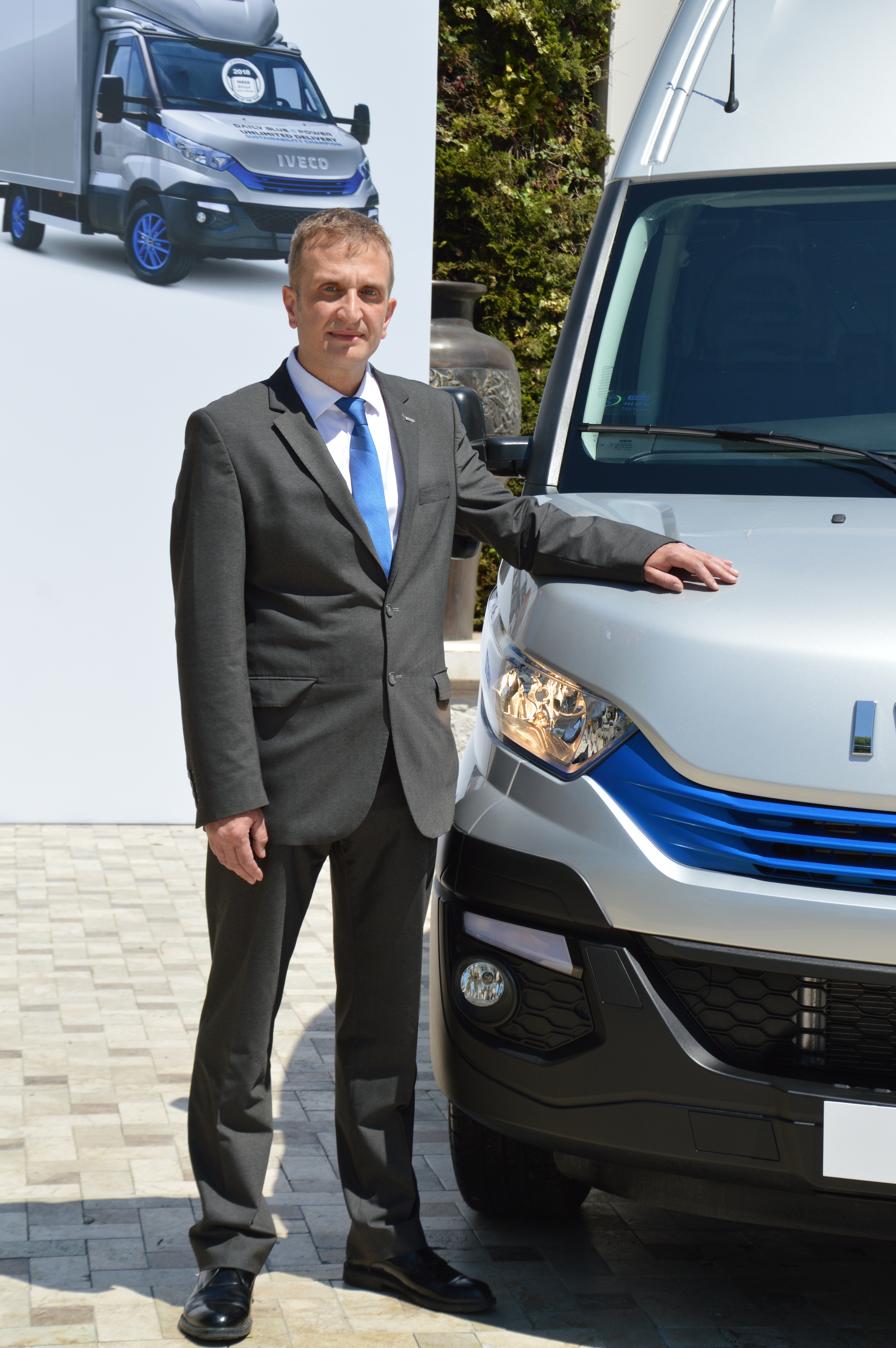 We talked to Iveco Light Commercial Products Manager Süha Yılmaz about all the details of the Daily Blue Power. Yılmaz has indicated that alternative fuels and eco-friendliness lies at the heart of the Daily Blue Power and said: "Iveco is a brand that works on alternative fuels. We have natural gas, LNG, electric and diesel-powered versions. We have 3 different concepts for the Daily Blue Power: diesel, natural gas and electric."
Daily Blue Power contains a technology that almost resemble the vehicles of the future. Can you tell us about the details of the vehicle?
Daily Blue Power is our new concept vehicle. Alternative fuels and eco-friendliness lies at the heart of this concept. This product has been designed through a less fuel and eco-friendlier concept. Daily Blue Power was launched at the beginning of this year. As soon as it was launched, it was named 'Van of the Year' in Europe. Our biggest goal with the production of the Daily Blue Power was to make an eco-friendly vehicle. In certain regions of European countries, vehicles can enter city centres only if their emission levels are low and if they are electric or natural-gas powered. They can enter such regions by paying less than other vehicles; however, there is no such application in our country right now.
"Our Goal Is to Manufacture Eco-friendlier, Less Consuming, Comfortable and Safe Vehicles"
IVECO is a brand that works on alternative fuels. We have natural gas, LNG, electric and diesel-powered versions. We have 3 different concepts for the Daily Blue Power: diesel, natural gas and electric. We can offer both panelvan and chassis version products for our 3,5 ton and 5-ton vehicles in the electric segment. Advancements continue for the electric vehicle. We also have a natural-gas version of our product. Iveco is the biggest among the natural-gas powered commercial vehicle manufacturers. Daily Blue Power is also a part of this concept. Here, we can offer products in all segments from 3,5 tons to 7 tons. In addition to the Daily Blue Power, we offer the Hi-Matic 8-speed automatic transmission-equipped vehicle for the natural gas-powered version. Previously, we couldn't offer our natural gas-powered versions. So, this has been reflected on the Daily Blue Power as an improvement and advancement. Other than that, our product development activities continue for diesel vehicles as well. Our goal is to manufacture eco-friendlier, less consuming, comfortable and safe vehicles. In that sense, we have made the launch of our Euro 6 diesel vehicle that will meet the emission levels of 2021, under the title of our Daily Blue Power product.
Diesel Will Be Replaced by Electric Vehicles"
In order to use technologies other than diesel, they need to adapt other factors and regulations. It may be difficult for Turkey to catch up to this process as fast as Europe. Which of these 3 concepts do you think that we will see more in the market?
For nearly 10 years, I've been explaining the natural gas-powered versions in the Daily product group to the companies and customers in Turkey. I've been stating that natural gas is 30 to 40 percent more economic, more eco-friendly and safer than diesel. Unfortunately, we haven't had any progress in the Daily natural gas-powered product group throughout that 10-year period. They're selling a lot of natural gas-powered products in Europe and especially in England. While trying to introduce the Daily product group into the Turkish market, there has been an unexpected development in the current state; the electric version of the Daily group began to have much higher sales. So, I think that when the costs decline to a much more reasonable level in the near future in accordance with the electric and electricity infrastructure costs, people will begin to steer from diesel to electric vehicles. It seems like especially natural gas-powered vehicles won't have much progress in our country; however, I think that diesel will be replaced by electric vehicles in the future.
In order to meet the charging requirements or natural gas-requirements of natural gas or electric-powered vehicles, certain infrastructural services must be established. Do you have any contact with companies or the state to accelerate this procedure?
We have continuous contact with companies that establish such infrastructures. Iveco always works with these companies in both Turkey and around the world. 10 years ago, there were only one or two privately owned natural gas stations in Turkey and the rest were natural gas stations that municipalities used to run their busses. We thought about whether we can use those. However, during that process, the private sector kicked in. With the engagement of the private sector, dozens of natural gas stations appeared.
"There Should Be Incentives Like the Ones in Europe"
Here was the problem with natural gas; instead of purchasing 100 percent natural gas-powered vehicles like Iveco vehicles, they wanted to convert their current diesel vehicles to natural gas. When they encountered very major problems there, the users began to react by saying; "Natural gas-powered vehicles have problems. We can't use natural gas-powered vehicles." and this has slowed down the momentum. When it comes to electric, currently they're thinking about making our domestic vehicle to be electric-powered. They're still working on the infrastructure. Various companies and even major communication companies contribute to this operation. It is not something that can be rushed; it requires significant investments. However, the infrastructure has already been established for natural gas. In my opinion, vehicle operators should be provided incentives like the ones in Europe. These incentives can be in the form of taxes or they can be given priority on bridges and highways for urban or interurban transportation. I'm sure that if there were incentives like that, our natural gas versions that we can't currently sell, will begin to sell. Likewise, electric vehicles will get stronger and as a result, we will be able to take advantage of alternative fuels. State's actions on this topic will be more decisive and increase the strength of the vehicles in the market by a lot.
"All Compatibility and Approvals Have Been Prepared"
You have stated that the diesel version that we spoke as the third version has been manufactured with a technology that is compatible with 2021 emission rates and that it uses an eco-friendly technology. What is inside this 2021 technology? Can you elaborate?
In 2005, we only had the Euro 1 level emissions and actually didn't even have Euro 1. It was just a non-descript emission level. So, we've decided to make a good thing at this point and followed Europe. So, looking at our journey from 2005 to 2013, we began to speak about Euro 6 all the way from the Euro 0. This is very healthy and important for us, for our people, for the environment and nature. It is very important to make the vehicles more comfortable and safer in Euro 6 vehicles. Other than that, it is also impossible to raise the vehicle up to European Union's emission levels. Euro 6 will also have its sub levels like 'B' and 'C'. It is not an easy thing that designate these classes and make vehicle compatible. The board convenes and says; Euro 6 'B' level carbon emissions will be these and enox shall be as such. So, you have to both apply this level and regulate the fuel consumption levels, which is one of the most important factors today. As Iveco, we're really good at these things. We can manufacture a complete engine, product and its line-up from 3,5 to 40 tons on our own while making R&D and advancements. Therefore, our goal is to manufacture a safer, more comfortable, eco-friendlier and less consuming vehicle. Considering this vehicle, you can immediately order one tomorrow from the IVECO dealer. All of its compatibility and approvals have been prepared.
Compared to the other alternative product, how much fuel economy will this vehicle offer?
Fuel is a really difficult subject. You create a product and you have to meet the required emission figures for that. Meanwhile, you also have to ensure less fuel consumption than its previous version. Currently, the Euro 6 vehicles we've launched in Turkey, consume 8 percent less fuel than the previous Euro 5 vehicles. Therefore, the next step for the Euro 6 is to have a product line-up that can meet the level for 2021. Our goal is to achieve an additional fuel economy of about 5 percent.
"We Have Extended the Maintenance Interval By 50 Percent"
In terms of service requirements, does it have any feature that offers different advantages to the user? Can you give any details?
Especially in terms of engines, Iveco brand is a good brand and we're counting on that. When we're selling a product like this, our goal is to ensure cheaper maintenance costs and longer maintenance intervals. Therefore, in Turkey, we can offer Daily group products in both 3,5 ton and 7 ton markets. At this point, we did one thing that the market didn't do and extended the maintenance interval from 20 thousand kilometres to 30 thousand kilometres. This shows our confidence in both our product and engine components. In the end, we have extended the maintenance interval by 50 percent. I hope that we can extend it a further 50 percent in the upcoming years.
"About 5 Percent More Expansive Than the Euro 6 Vehicle"
Inevitably, a vehicle with such features will have differences in its price as well. Considering its total cost of ownership, how long does it take for the vehicle to pay for itself?
First of all, I should say that we're not a very cheap brand. Our brand's prices are slightly higher than its competitors in the market. There are various reasons behind that. We tell our colleagues in the sales department to first listen to the customer when a customer arrives. What does the customer want? How many tons do they want? What are the dimensions of the vehicle they require? We have lots of engine options as well. Our engine options can vary from 140 horsepower up to 210 horsepower. If you can give me details about these factors, I can make an assessment of the prices; however, the diesel version vehicles in the Daily Blue Power series are about 5 percent more expensive than a normal Euro 6 vehicle. We don't have a major price difference.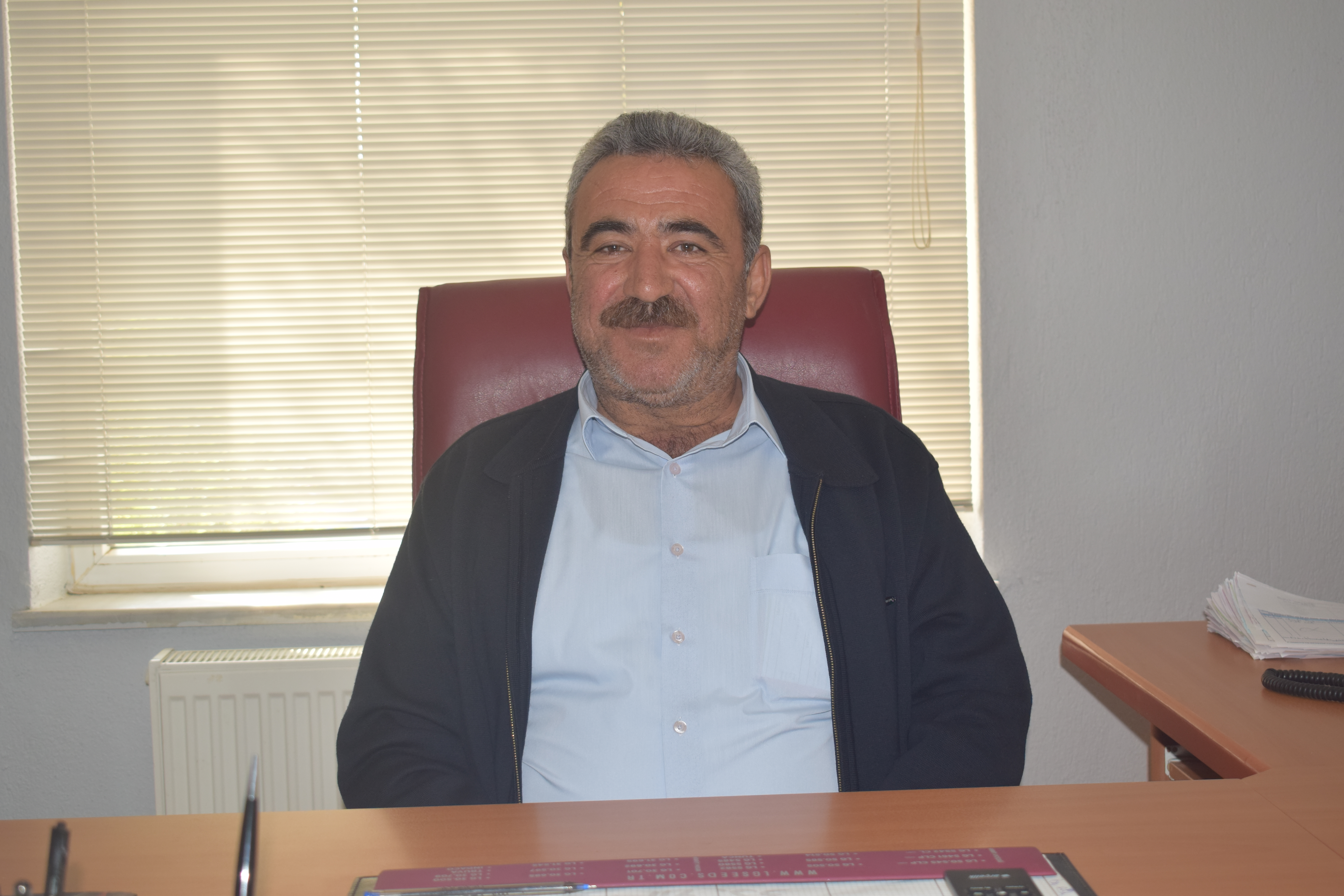 The time it takes for it to pay for itself depends on its operation and mileage. At that point, there are lots of different factors; however, if this vehicle was a natural gas-powered Daily Blue Power, I could say that the vehicle would pay for itself in 3 years. That's because it has the advantage of natural gas prices. If we compared the Daily Blue Power with a normal Euro 6 diesel vehicle, the difference would be a bit higher. That period may go up to 5-6 years.
"We Have Highly Aware Customers"
Can you paint us the profile of an audience that is more likely to purchase this vehicle?
Environmental awareness is an important subject. Some large companies directly assess the emission levels of their fleet vehicles and prepare reports. Accordingly, I think that Daily Blue Power concept (electric, natural gas and Euro 6's 2021-ready version) will more comfortably find a market especially among environmentally conscious large-scale companies. Other than that, we also appeal to the individual buyers. Even though their numbers are not high, we have really conscious customers. Of course, it would be hard to meet the required fuel levels as the emissions go down. However, that will be achieved through research and technology.
"We're Planning on Selling 50 Vehicles"
Do you have any predictions on how many vehicles will be sold in the following term?
Sales of our 5 and 7-ton Euro 6 class Daily series vehicles have been sold for the last 2 years. For this year, we're planning on selling 50 vehicles from the Blue Power line-up.
NEW DAILY EURO 6
Already Prepared for The Emission Standards of 2021
After Daily Euro 5's launch in the past years, IVECO now raises the bar even higher with the New Daily Euro 6. In addition to features like its renowned strong chassis, durability and versatility, the New Daily Euro 6 also reduces the total cost of ownership while adding new features in terms of performance, comfort and informatics.
Up To 8 Percent Fuel Economy
The New Daily Euro 6 product line-up features an extensive engine line-up with two different engines that have 2.3 and 3.0 litres of displacement, producing from 120 HP to 210 HP with up to 470 Nm of torque. These engines provide top level performance to different versions that have maximum laden weights that vary between 3,5 tons to 7,2 tons. Dailies have the MULTIJET II patented engines that ensure the most efficient ignition. Compared to the Euro 5 engines, these efficient engines offer up to 8 percent fuel economy (with NEDC cycle).
Lower Operating Costs
IVECO's SCR-equipped F1C 3.0 litre engine has been tested for 20,000 hours and 1,5 million kilometres on the roads. The engine's new injectors optimize ignition to reduce particles even further. That allows longer maintenance intervals and lower operating costs for longer operating times in heavy missions.
Optional SCR and EGR Technologies
The new 2.3 litre IVECO F1A engine, on the other hand, has been tested for 25,000 hours and 1,3 million kilometres on road conditions and it has been redesigned all the way down to its oil pan. Using newer materials, the engine's weight has been reduced by 6 percent. Fuel consumption has been reduced by 8 percent (with NEDC cycle) by reducing the internal friction of the engine, improving the MULTIJET II injection system and cooling system and using a new oil pump. In accordance with the mission, the F1A engines of the Daily Euro 6 can be offered with the optional SCR and EGR technologies. With 25 years of know-how in the SCR technology, IVECO has already met the 2021 emission norms and proved that it is the leader in technology, even though the laws do not even require.
Superior Features That Reduce Fuel Consumption
All the new features of the Daily Euro 6 contribute to reducing its Total Cost of Ownership. The Daily is equipped with features like the Variable Geometry Turbocharger that is used on the engines that vary from 140 HP and 180 HP that ensure perfect fuel economy, as well as the EcoSwitch PRO that reduces torque without user intervention.
Thanks to these innovative solutions and efficient engine and drivetrain technologies, it offers up to 8 percent fuel consumption advantage compared to Euro 5 models. In addition, the vehicle offers immediate recommendations to the user through the Driver Assessment System (DAS), it helps ensure up to 15 percent fuel economy.
Offers A Perfect Platform for Mounted Equipment Manufacturers
Thanks to its laden weight options that range from 3,5 tons to 7,2 tons as well as its load capacity that ranges from 10 m3 to 19,6 m3, the Daily has a very extensive product line-up with a lot of versatility. Its extraordinary versatility and extensive product range - like van, semi-glass van, chassis cabin, chassis cowl and double cabin - it offers rich opportunities for various missions. In addition to its "C" shaped truck chassis structure and special steel cross components, it offers a perfect platform for mounted equipment manufactures in various missions like camping vehicle, ambulance, tractor truck and garbage truck. That extraordinary versatility allows extension of the body length of the new chassis cabin versions that have 5,100 mm wheelbase while expanding even more with a 7-ton model that offers even more for mounted equipment manufacturers.
Technologies of The Future
Meet with The New Daily Blue Power
Used for urban and regional missions, the New Daily Blue Power is offered as a perfect combination of technology, low emissions, low environmental impact and high performance and efficiency that ensure transportation operators not to be affected by environmental regulations.
The New Daily Blue Power shine out with its blue grill, console and gear lever. As it refers to the future, the model offers a choice between three technologies; the most advanced diesel solution, natural gas and electric.
Up To 7 Percent Fuel Economy
Officials have indicated that the Daily Euro 6 RDE Ready contains the most advanced diesel technology of the market and that it is the first light commercial vehicle that is ready for the 2021 Real Driving Emission regulations. Vehicle's conformity has also been verified by Netherlands Organisation for Applied Scientific Research (TNO). With extremely low levels of fuel consumption, the vehicle offers advantage to its customers in terms of total cost of ownership as well. Thanks to its standard Start&stop system and Michelin eco-tires, the model offers up to 7 percent fuel economy in urban missions compared to the current model.
As the perfect combination of low emissions and urban driveability, the Daily Hi-Matic Natural Power is the first compressed natural gas-powered vehicle with an 8-speed automatic transmission in the light commercial vehicle sector. Daily Electric, on the other hand, is offered against the harshest urban traffic restrictions as a zero-emission vehicle that can travel within cities.