Schmitz Cargobull has recently hosted us, the global press members, at their factory in Berlin where they manufacture the VKO. At the organization, they not only presented their new technologies and the vehicles they will display at IAA 2018 but also focused on their tippers that has many new features with its "Smart Technology" that offers a lot of convenience for their users. Yet another important topic from the event is the fact that; from now on, Schmitz will manufacture its cooling unit on its own.
Andreas Schmitz, the new generation representative of the company, has once again answered our questions at this important organization.
Here are some of the headlines from our interview...
"We are still very much positive about Turkey..."
Last year I asked you in Germany; What are you thinking about Turkey? Have your thoughts changed this year?
First of all, we, as Schmitz, are still very much positive about Turkey and we are fully in the budget of the plan, in terms of production figures and sales figures. So, in that sense, everything is going very well, even though nobody can deny that the market is not as strong as it was a few years ago. So, overall, we're still very positive about Turkey.
"Turkish lira has gotten devalued a lot, which makes it more difficult for a German manufacturer."
What can you say about the tippers? In April, you were planning on producing tippers in Turkey but now, we see that this plan hasn't been realized. Why?
That has more to do with the fact that we just had a lot of work and we feel as though, on the reefers, our cost and further localization of the product makes a lot more sense with the tippers now. Which doesn't mean that we gave up on the tippers. It just means that we've realized that certain things could be improved on the current product, especially the reefers. So, we're going to focus on that a little bit more. But, in case of the tippers, it is just one of those things that maybe we're trying to do too many things at once; curtainsiders, reefers and tippers…That's a lot. So, we postponed it a little bit but it doesn't mean that we will not follow up with it. The other thing is also that the Turkish lira has gotten devalued a lot, which makes it more difficult for a German manufacturer. So, that's why on the tipper, we might have to wait a little bit longer but eventually we still want to follow through with it.
What can you say about the supply of spare parts in Turkey? That's actually one of the nice things about the factory. All the major spare parts are available at the factory. So, they are there. They can be bought directly from the factory. But of course, we also have service partners in Turkey and we sell to them so that local service partners can mount them and do the service. We have no problem at that point and we have a lot of spare parts available in Turkey, especially for everything we're producing in Turkey. Now if somebody orders something very specific from Germany, bringing it there is more difficult. But I would say that standard range for the running gear, for the brakes, for the lights…for all the major parts, everything is there.
"We're also working on a solution for financing."
Which brand poses the biggest challenge for you in Turkey?
Tırsan is the biggest of course, let's face it. And you know, they are providing a lot of financing. We're also working on a solution for financing. We will make financing available for all our Turkish customers as well.
"For cooling unit, the services, I would say, are almost more important than trailers."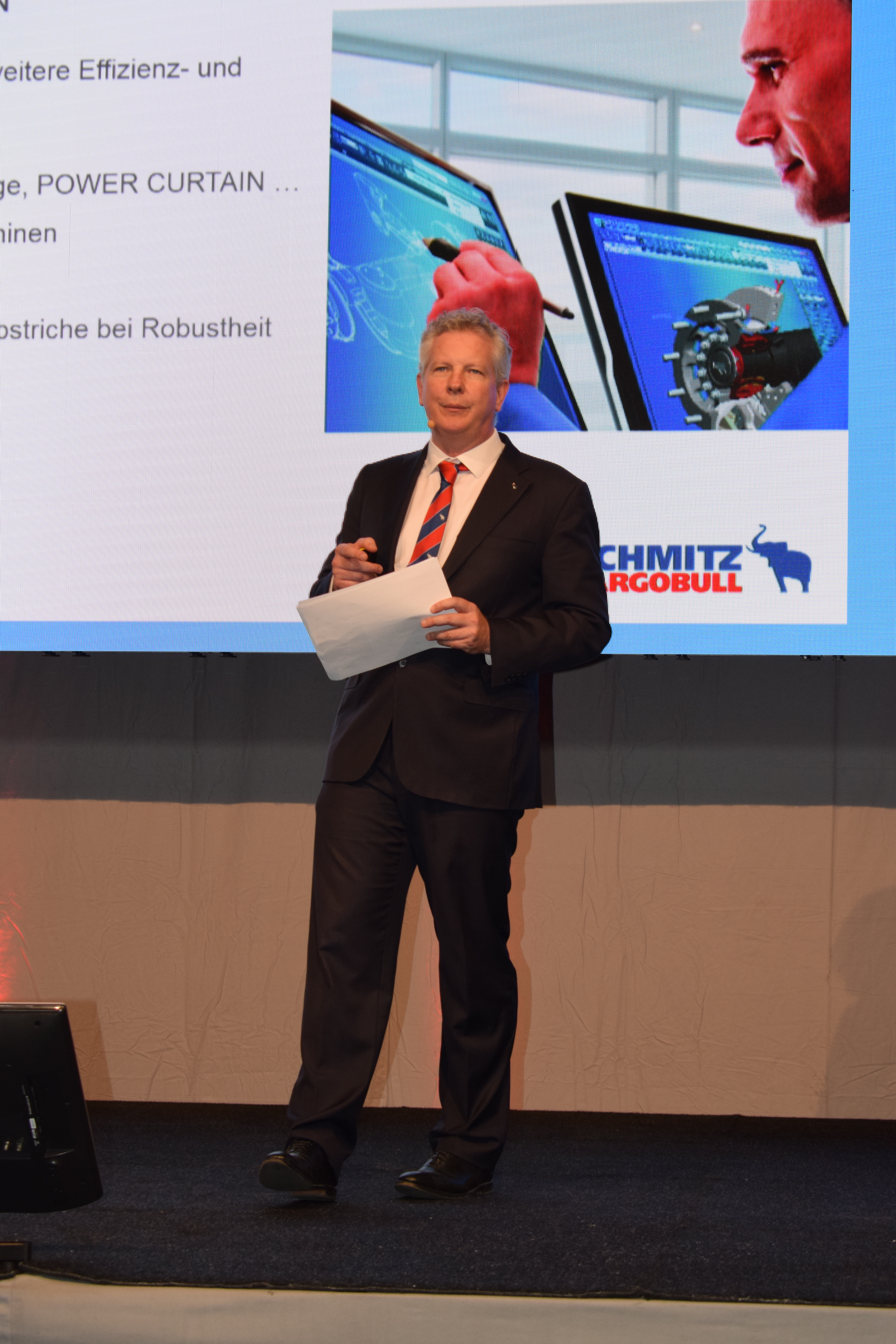 You are producing your own cooling systems in Germany. When will you get the Schmitz cooling systems to Turkey?
Like everything, we can't do everything at once. So, we want to be careful there and we also want to make sure that we have service available. But it really depends mostly on the Turkish organization to decide when they are ready to bring that to market where they feel that they can give service. We are selling our cooling unit in South Africa, New Zealand and many other places far away. But of course, you have to give a local service. And for cooling unit, the services, I would say, are almost more important than trailers. Trailers are important too but for the cooling, you have to be very quick as well. So, that needs to be built up and as soon as our local organization feels that they are ready, they will start selling it.
So, how will your production of the cooling systems affect the prices? Will it decrease or increase the prices around the world?
I mean, the thing is this: our cooling unit is a lot more integrated than the one we buy. So, everything you heard today about telematics, about full service, about predictive maintenance, about controlling the temperature… We can do an automatic restart. We can have the customer and even we, if the customer wants us to, control the temperature. We have a proactive service. We can call the customer or send them a message on the phone that they want or on the phones that they want if there is a problem with the temperature. We can do an automatic restart. So, we have a two-way communication. If a sensor that goes a little bit crazy, we can tell the cooling unit to disregard that sensor and focus on the other ones. So, we can do a lot of remote services and that is only possible with two-way communication with our automatic system. So, it is a very different format. With the telematics system, we have an automatic temperature control in there. We have automated temperature writing in there. So, all the information on the temperature is actually available on the unit. It is included in the price. And it is available remotely and to the transport company and also to his customer if he wants to. And that is a complete control over the temperature.
So, you mean that it is more than a device?
It is a much more advanced unit, yet it manages to be price competitive. We're not selling it at a huge price premium and we're not selling it cheap either. But it does a lot more and it comes with a seven-year service included. So, what do I compare it to? If you include all the things we offer; yes, it is a better value, it is cheaper. If you say: "I'm just interested in the price", that's more expensive.
"It really depends on the Turkish customers saying: "Hey, look. We really want this now. "
When will smart technologies come to Turkey?
Good question. That depends also on the Turkish organization but it is very soon I think. It is going to be a successive rollout now of the smart technology all over. And it really depends on the Turkish organization, the Turkish customers saying: "Hey, look. We really want this now." And if there is a big interest, we can bring it to the market very quickly. Again, in New Zealand, in South Africa we're selling it. We're selling it in most European countries and it is a matter of priorities of our Turkish team to say: "Hey look, we want this now." So, we will bring it to the market.
I believe that introducing smart technologies to Turkey is highly important for the sector...
I think so too. Especially if, let's say a larger company, says: "Hey, I really want this." It is always important to get an initial, let's say, critical mass. So, if we have to do all the service for a single unit, it is very difficult. But if there is a customer that says: "Hey look, I really want this. I have 100 units. Will you do this?" Yes, we will.
Why a factory in Turkey?
Why? I think there are several reasons. We always kind of analysed it and thought about going into Turkey and often there have been different priorities but then, especially with the, let's say sanctions between Russia and Europe, a lot of the transport streams went through Turkey. Of course, it all stopped again when there was this, let's say the 'political plane incident'. Then that stopped even more quickly. But we said: "Hey look, there is a real transport need and we should, especially in the food transportation where was a real need, be there." Then we took the decision to set up in Turkey. We wanted to make sure that especially on Reefers. We set up there. Because we do believe that there will be more and more food traffic. I mean, I know that our customers drive from Israel to Moscow. And yes, they drive through with my trailers. That's why I'm saying, we can send information, we can do all that also in Turkey. I just want to make sure that then, there is somebody in Turkey from us that is well trained, that can explain how it all works to those Turkish customers. But we have international customers that drive through Turkey and they have the smart trailers. So, they're running, they know where they are and they know their position and everything.
As you know there will be a political election in Turkey. What are your plans for after the elections?
We have invested a significant amount to provide finance for Turkish customers. So, we're now committed to Turkey and we will go ahead.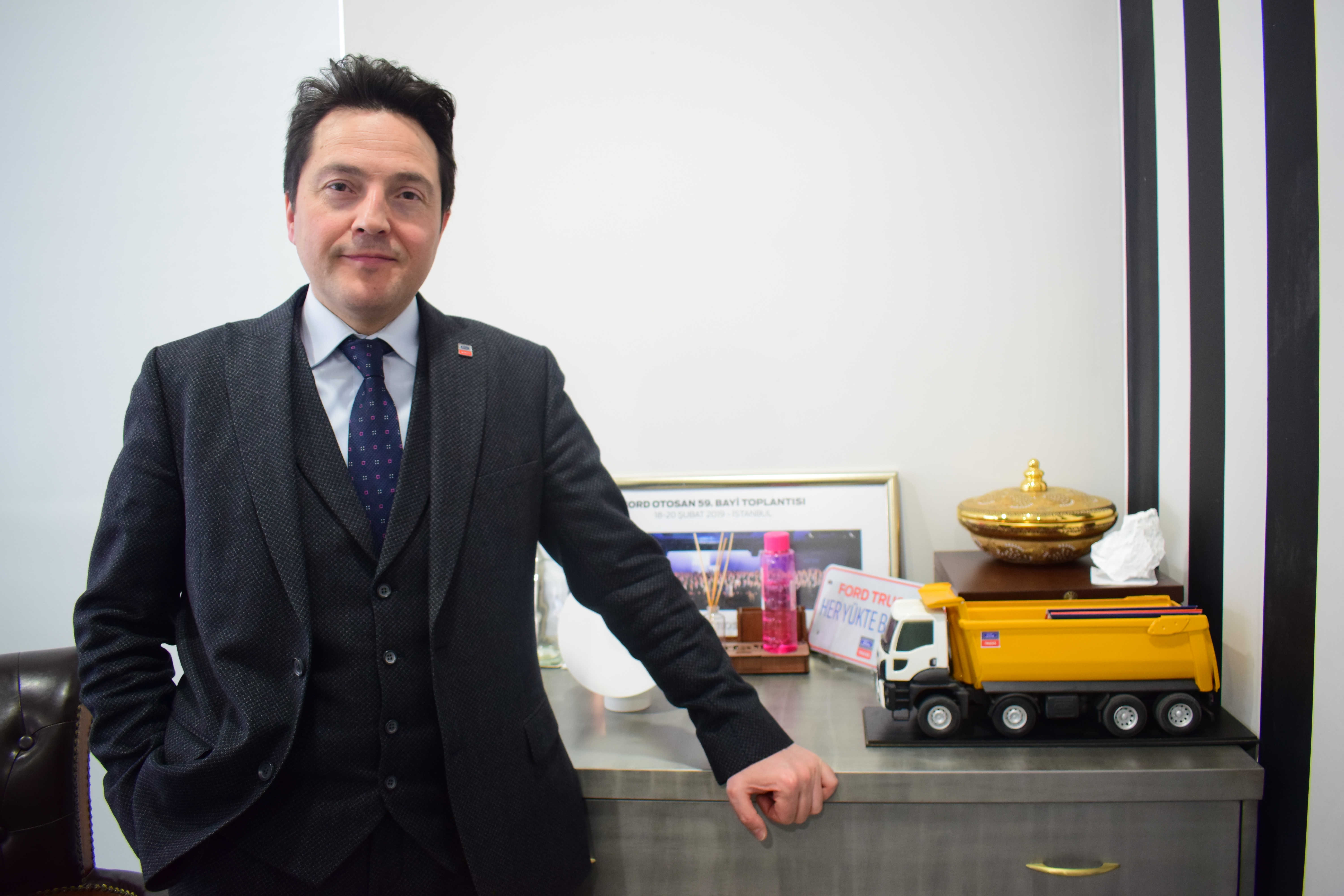 "Our industry is always up and down."
So, are you taking it slow and perhaps taking smaller steps?
No, I wouldn't say we're taking it slow. It is just the market is not as strong as it was. So, natural we all have to adjust to that. And yes, we were thinking about taking a very big step two years ago but that, we didn't.
Look, our industry is always up and down. And this market goes down and this one goes up. So, markets going up and down is something that we are very used to and we just have to live with that. But we have it in Germany too. We have it in Russia, we have it in Germany, we have it in UK right now, we have it in Spain and even in Italy we will see it again. Our industry depends very much on the economy and if the economy is healthy, we grow and if the economy is shrinking, we shrink. But it is something that we are very good at and we're very good at dealing with it. I'm hopeful that also in Turkey we will set up the right systems for flexibility with our workers so that we can keep our people on board. Yes, everybody has to tighten their belts a little bit and when we overcome the crisis, we come out stronger and better than before. For example, Spain is a great example. Spain had a crisis for six or seven years. They didn't come out for a long time. 2008 crisis until, I can say two years ago, maybe two and a half, Spain has been in crisis. And the market was very low. But we stayed there and we stayed there with our team and we're now the market leader with a very healthy Spanish market.
What do you think about other energy systems? For example, natural gas and electric systems?
Well, luckily, we don't have an engine with the exception of the cooling unit. On the cooling unit, we might see electrical cooling units to go into the inner cities. That is driven by certain supermarkets. I think in the long-distance transport, it would still take time. Right now, there is not a system available that, purely from the electrical system perspective, would just run by itself. And then to steal the energy from the truck to give it to the cooling unit wouldn't be very efficient. It is not logical. If the customers want that, we will probably offer it but… For the inner cities, I can see it with a battery and electric to go into the cities. So, there is no diesel, there is no smell and there is no noise. In the long-distance transport, it is not there yet.
SCHMITZ CARGBULL READY FOR IAA
Brand New Products and Services Will Be Showcased
Schmitz Cargobull will once again be showcasing a wide array of innovations at the IAA Commercial Vehicles Show 2018. As Schmitz Cargobull's product and service experts have been working around the clock for the last two years, they have created countless new trailer developments and service innovations for the benefit of the customer with the aim of reducing the total cost of ownership. All of the innovations have been developed according to the strictest standards of quality and tested in a practical setting.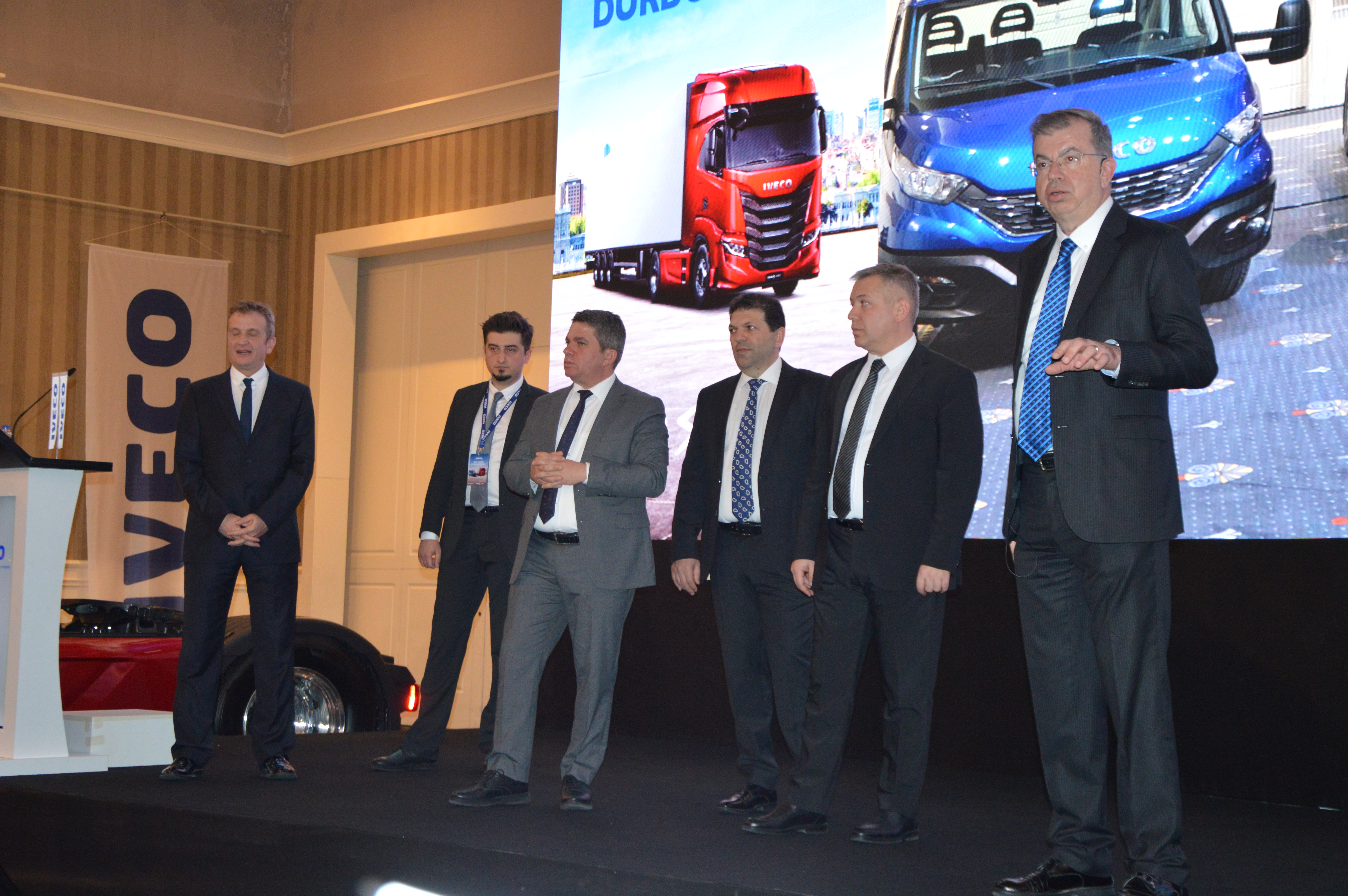 S.KO COOL Reefer Semi-Trailer
Schmitz Cargobull will present the S.KO COOL reefer semi-trailer in a new form at this year's IAA Commercial Vehicles Show. With the transport solution consisting of the enhanced refrigerated box body, the new S.CU cooling unit and the telematics system, transport companies receive an optimised complete package for refrigerated logistics. It has been developed further, tidied up and given a distinctive new look. The protected area of the bulkhead has been extended further upwards, so as to avoid damage during coupling. Furthermore, the insulation capacity of the bulkhead has been increased further through the optimisation of many details. The new side guard is the most telling sign that another generational change has taken place.
New Schmitz Cargobull S.CU Transport Refrigeration Unit
Schmitz Cargobull has further developed its in-house refrigeration unit and equipped it with the latest common rail diesel motor. The new refrigeration unit generation offers the same high cooling performance and precise temperature management, but uses up to 10% less fuel.
All Schmitz Cargobull refrigeration units comply with the Stage V emission standard, which comes into force in January 2019.
Through the optimum interface design of the new refrigeration unit and improved air circulation, operators can achieve even more consistent temperature distribution in the cargo area. The display has been redesigned to improve its user-friendliness, while the large digits make it easier to read. As an alternative to the display, all functions of the S.CU refrigeration unit and telematics system can be controlled via a smartphone.
The S.CS Curtainsider Semi-Trailer with POWER CURTAIN
The S.CS curtainsider with POWER CURTAIN from Schmitz Cargobull is designed to meet demands for increased transport efficiency and effective time management. The certified structural rigidity according to DIN EN 12642 Code XL is achieved without support laths thanks to aramid belts and steel wire integrated into the tarpaulin. The advantage of this lies in quicker loading and unloading without time-consuming handling to secure the load. This enables the driver to continue their run more rapidly and further optimise the transport process. At the same time, the POWER CURTAIN offers high theft protection. The POWER CURTAIN also offers high protection against theft.
S.CS MEGA Curtainsider Semi-Trailer
Thanks to the new rolled chassis, the weight-optimised design of the S.CS curtainsider semi-trailer is now a whole 300 kg lighter, To the delight of freight carriers, the basic equipment package for the semi-trailer has an unladen weight of just 6,290 kg. while the standard of robustness and quality has remained the same.
S.CS UNIVERSAL Curtainsider Semi-Trailer
The S.CS UNIVERSAL curtainsider semi-trailer also comes in a leaner version. The Schmitz Cargobull all-rounder has an unladen weight of a little less than 6 t. The trailer possesses the DIN EN 12642 Code XL certificate and is also equipped with the new design of side guard.
M.CS Truck Curtainsider and Z.CS Central Axle Curtainsider
The Schmitz Cargobull high-volume trucks with drawbar trailers have also seen a generational change. The M.CS truck curtainsider and the Z.CS central axle curtainsider are now newly available in the MEGA version, with the total weight reduced by 500 kg. The trimmed-down high-volume truck and drawbar trailer in the MEGA version now offers greater payload for optimum and flexible transport solutions.
S.KI Thermal Tipper Trailer with Rounded Steel Body and Aluminium Box Body
To minimise payload loss, the thermal insulation of the S.KI SR rounded steel tipper body has been optimised again for 2018. The innovative insulation material has a low additional weight of approximately 310 kg, offering a robust and payload-optimised transport solution. Alongside the rounded steel body, the aluminium box body is also available with full insulation. This weight-optimised transport solution also complies with the required insulation standards while providing for a high payload thanks to its unladen weight of only 5.1 t.
S.KI VOLUME tipper trailer with an aluminium box body
The S.KI VOLUME AK tipper semi-trailer has a loading height which, although it is 160 mm lower, still retains the same body volume and an unladen weight which has been reduced by up to 150 kg. The tipper trailer will also be available with the Schmitz Cargobull axle from September 2018 onwards.
Schmitz Cargobull Parts & Services
Schmitz Cargobull Parts & Services has invested in new digital systems for local service and workshop training. Workshops around the world will be able to connect with Schmitz Cargobull specialists using remote maintenance applications, receiving instructions and help online during the repair process. This drastically reduces the time needed for troubleshooting and keeps downtime to a minimum. For more complicated repairs, virtual-reality-based training sequences will be used to enhance training and development for workshop engineers. Enabling engineers to experience repair scenarios in a virtual world helps to improve the success of training. The first area of application for these new digital service and training elements will be the new Schmitz Cargobull S.CU refrigeration unit.
Schmitz Cargobull Finance
Since 2017 Schmitz Cargobull Finance has offered an extended range of insurance solutions via its insurance partners through the Schmitz Cargobull insurance broker. Our specialist in-house insurance agent was founded under the umbrella of Schmitz Cargobull Finance and now operates as Cargobull Insurance Broker GmbH (CIB), supporting a clientele of transport companies within Germany.
Schmitz Cargobull Telematics
With the launch of its new telematics hardware, new sensors, a new online portal and the new beSmart app, Schmitz Cargobull Telematics is showcasing a range of pioneering innovations. It will also increase its focus on proactive services and predictive maintenance in future.?