In delivery and distribution transport, every single kilo counts – and those who equip their vehicles with weight-optimised and payload-optimised components are the ones who reap the benefits. This is because lightweight components that are precisely matched to the respective requirements save fuel and increase the maximum payload. Fleets also operate exceptionally efficiently and economically when their vehicles are on the road as long as possible, without any breakdowns or stoppages. "In terms of payload optimisation, SAF-HOLLAND supports fleet managers on an individual basis, offering high-quality components such as fifth wheels or axles plus accessories, even when it comes to the configuration and original equipment of trucks and trailers", said Elmar Weber, Product Manager OE Europe at SAF-HOLLAND.
Exceptionally lightweight: Premium axle with new brake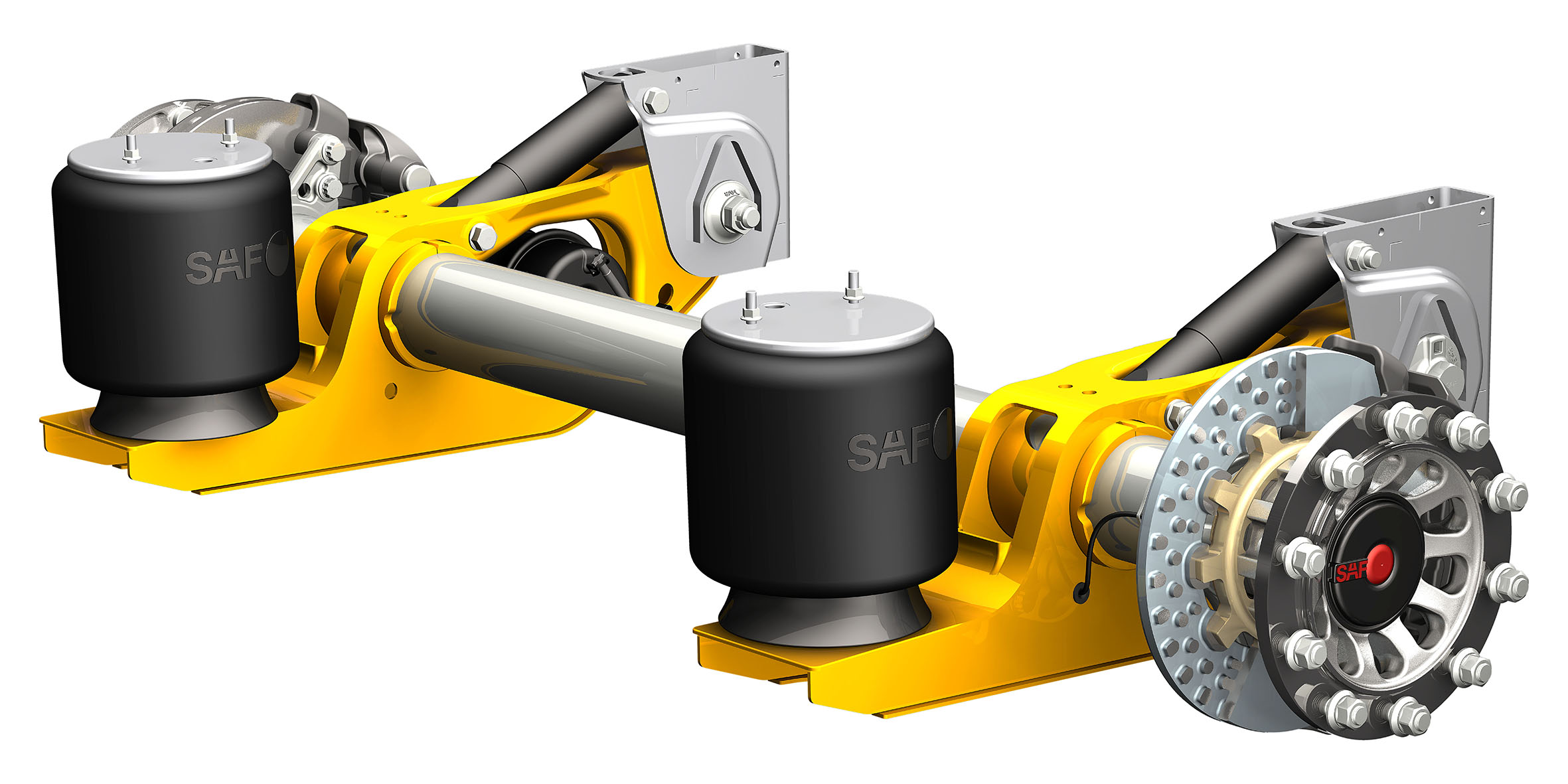 With the new ten-spoke wheel end design, SAF-HOLLAND is optimising the weight of its SAF INTRADISC plus INTEGRAL premium axle. The lighter design was presented at the IAA Commercial Vehicles 2018 and has been in series production since the spring of 2019. In combination with the
brake caliper SBS 2220 H01, the optimised trailer axle reduces the weight by 8 kg. "SAF-HOLLAND's products and systems are getting lighter and lighter: On a three- axle semi-trailer, our premium axle reduces the weight by a total of 24 kg ex works. Fleet operators do not need to invest any extra money for this, in contrast to aluminium rims, for example" explained Elmar Weber.
In order to reduce the weight of the brake, the suspension specialist has adapted the topology of the cast parts while maintaining the same high performance and service life of the disc brake. The 22.5" brake SBS 2220 H01, developed jointly with HALDEX, is designed for axle loads of up to 9 t.
There are other ways of reducing weight, and thus costs, in articulated lorries that do not involve additional expenditure, for example by commercial vehicles making do without the spare wheel: One trailer tyre, steel rim and bracket together weigh around 160 kg. If these are not on board, the unladen weight of the tractor/trailer combination is reduced and the payload is significantly increased – tangible added value for cost-conscious fleet managers.
Travelling safely without a spare wheel: SAF TIRE PILOT
Trailers do not have to be entirely dependent on having a spare wheel. In many cases, the SAF TIRE PILOT, the automatic tyre-inflating system from SAF- HOLLAND, can prevent punctures: The extra system weight of approx. 5 kg is only a fraction of the possible savings. In the event of puncture damage, the control system reliably maintains the tyre pressure at the preset level, allowing the articulated lorry to safely reach the nearest garage or home. Once there, the wheel can be changed. This prevents vehicles from being left stranded and minimises downtimes due to puncture damage.
Best-in-class solutions for secure connections
Truck and trailer, always securely connected: this is guaranteed by SAF- HOLLAND's robust, weight-optimised fifth wheels. "Our best-in-class solutions, consisting of fifth wheels and kingpins, can cope with any connection task, whether it involves lightweight 7.5 t lorries or abnormal loads of up to 75 t. To this end, we are systematically developing our products and tailoring them individually to tractor units and their areas of application," explained Dr. Rainer-Rudolf Gärtner, Head of Truck Business Europe at SAF-HOLLAND.
In order to keep the weight of its fifth wheels as low as possible, the supplier for commercial vehicle parts has, for example, optimised the topology of the mounting brackets and the top plate. Time, and therefore costs, are also reduced thanks to direct mounting, which eliminates the traditional mounting plate.
Chassis-integrated fifth wheel reduces the dead weight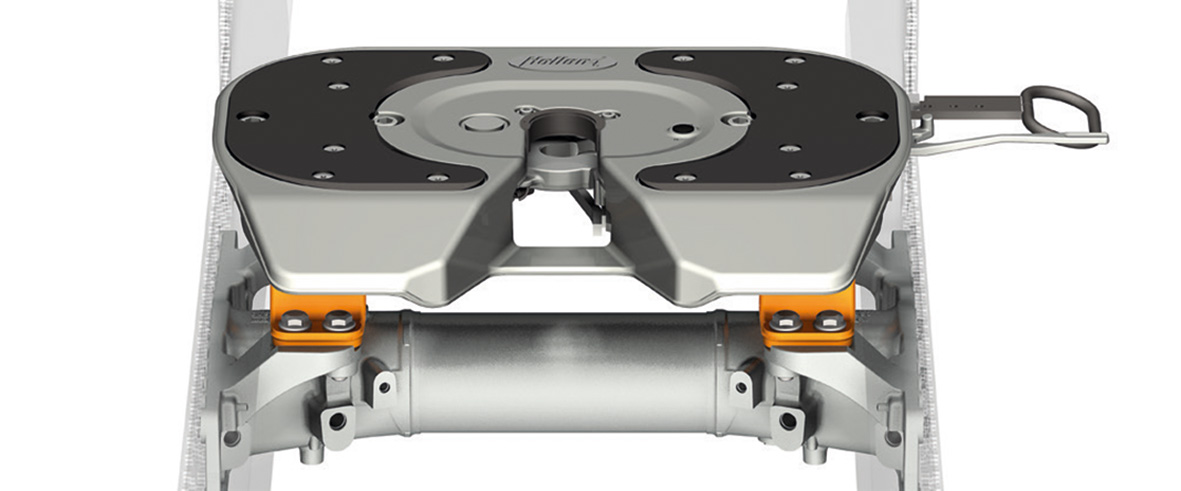 SAF-HOLLAND developed the FW 3214-W, the first chassis-integrated fifth wheel with an imposed load of up to 14 t, specifically for the Mercedes-Benz Actros and Antos tractor units. "Because it is installed directly in the vehicle frame and individually adapted to the tractor unit, it significantly lowers its dead weight and thus increases the payload potential," explained Dr. Gärtner. The FW 3214-W with load-optimised and wear-optimised coupling plates made of spheroidal graphite cast iron, is low-maintenance. The standard single-handed operation is exceptionally practical: A safety latch enables coupling and uncoupling with one hand.
Extra-light aluminium fifth wheel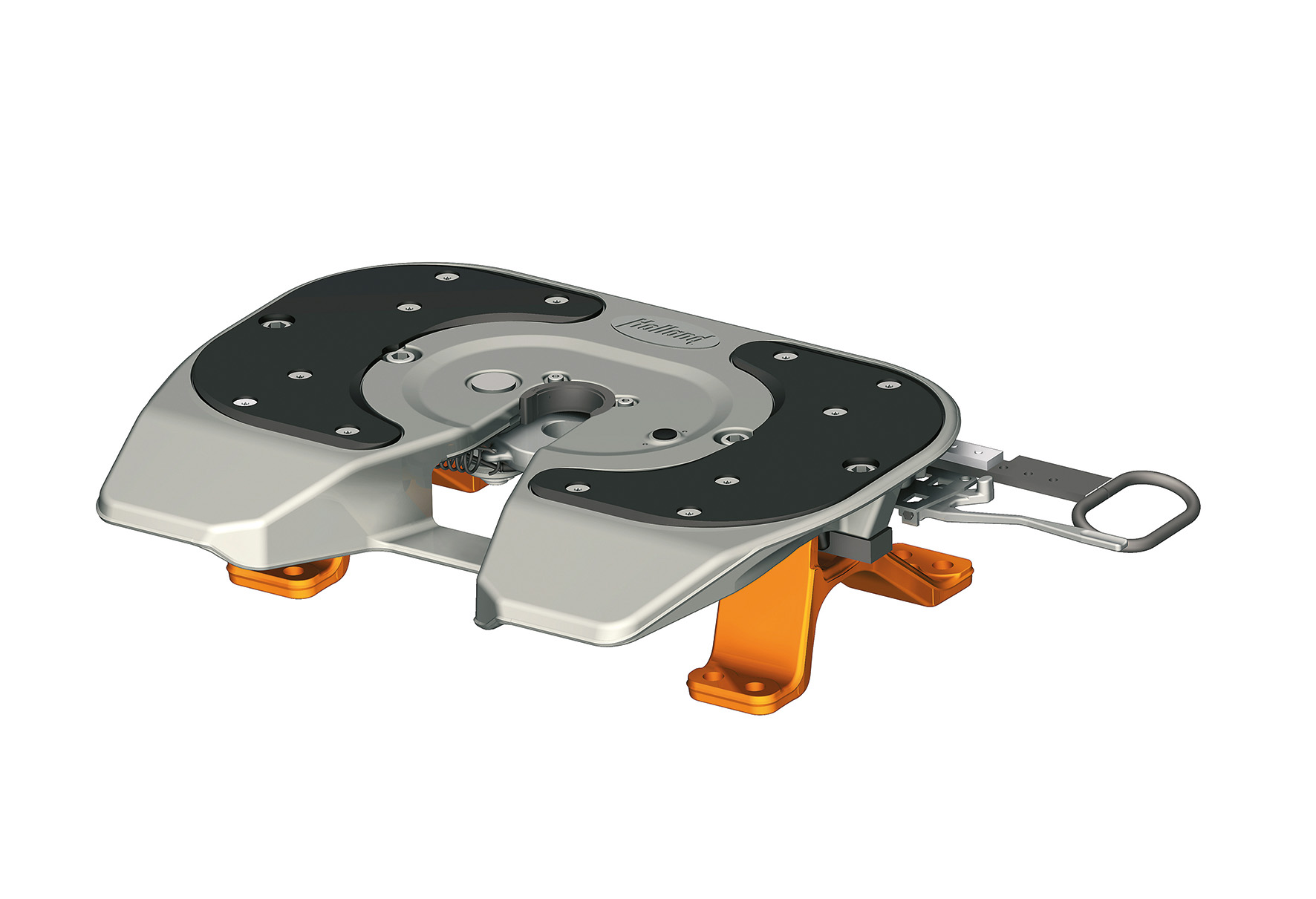 The FWAL-E fifth wheel made of forged aluminium is truly one of a kind: It is up to 55 kg lighter than other couplings. The optionally available Weightsaver mounting system can reduce the weight by an additional 35 kg. The grease-free NoLube technology with its low-wear, replaceable slide plates and bearing inserts is exceptionally economical and environmentally friendly. The extra-light aluminium fifth wheel is designed for imposed loads of up to 20 t and is available in three heights: 167, 197 and 219 mm.